Mitsubishi Pajero to soldier on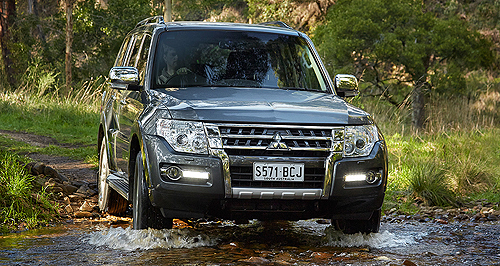 MITSUBISHI Motors Australia Limited (MMAL) says it has no plans to replace or discontinue the ageing Pajero four-wheel drive SUV, despite having been on the market in essentially the same form since 2006.
The
Mitsubishi Pajero
is now one of the oldest models available on the Australian market, having been on sale in current-generation guise for longer than the likes of the Toyota LandCruiser 200 Series, which touched down locally in 2007. In fact, the current model is a heavily revised version of the third-generation Pajero that landed in 2000.
MMAL president and CEO John Signoriello said the current-gen Pajero would keep on trucking in Australia for some time to come.
"Pajero, we're selling about 400 a month. There's still a demand, it's a great car, it still has its following," he said.
"There's nothing on the cards to say we'll stop production of the Pajero, so at this stage it's full steam ahead and we keep going as is. Don't have an end date, don't want an end date."
To the end of August, Mitsubishi has recorded 2233 sales of the Pajero, outpacing other genuine off-road SUV offerings such as the Holden Trailblazer (1753), Nissan Patrol (922) and Jeep Wrangler (768), and is hot on the heels of the likes of the Toyota Fortuner (2321) and Jeep Grand Cherokee (2920).
However it is still trailing its smaller Pajero Sport stablemate that has recorded 4404 sales so far this year.
While Mr Signoriello would not confirm whether the Pajero will be made in all-new, fourth-generation guise, he said: "At this stage, I'd like to hope we keep the nameplate."
He added that the car-maker could leverage the technology and platform-sharing of the Renault-Nissan-Mitsubishi alliance, which already has a number of larger SUVs in their respective portfolios.
"I think the alliance is going to bring us some synergies on some platform sharing, powertrain sharing, EV/plug-in hybrid sharing, all of that, but where, it remains to be seen," he said.
"Is it a Pajero? Potentially. But I'm not sure we're at that level of detail yet for that car. But I'd like to think that the alliance is going to bring us opportunities in multiple platforms, going forward in the medium-to-long term.
"In the short term I think it will still be basically Mitsubishi platforms, but medium-to-long term, definitely."
If Mitsubishi plans to retain the rugged off-road roots for a future Pajero, it could share underpinnings with the Nissan Patrol and give the Triton-based Pajero Sport more breathing room in the large SUV segment.
All
variants of the Mitsubishi Pajero
feature seven seats and are powered by a 3.2-litre turbo-diesel four cylinder outputting 147kW/441Nm teamed to a five-speed automatic transmission. View more details and images of the Pajero on
Group 1 Mitsubishi'
s
site
.